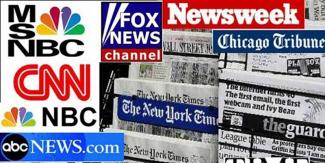 Misinformation in the Mainstream Media
When we talk about misinformation, too often we talk about it like a problem restricted to social media or alternative media – but the USA's mainstream outlets play a huge role in spreading it, failing to restrict it, or even creating it themselves.
Whether it's amplifying political lies or loaded narratives, or in propelling racist narratives, misinformation is a problem in mainstream media too.
To discuss what we can do to tackle it, we have a great expert panel – please come and join them for what should be a thought-provoking and challenging discussion.
This is a donate-what-you-like event – if you're able please do donate to support the EJN's work, but if you're not please do sign up for a free ticket with no questions asked.
The panel:
Emily Bell, Professor of Professional Practice at the Columbia University Graduate School of Journalism and the Director of the Tow Center for Digital Journalism
Alissa Richardson, Assistant Professor of Journalism at USC Annenberg and author of Bearing Witness While Black: African Americans, Smartphones and the New Protest #Journalism
Brooke Binkowski, managing editor, truthorfiction.com
Chair: James Ball, global editor of The Bureau of Investigative Journalism, EJN trustee and author of Post-Truth